About the painter
From the very beginning, Ľubomír Miča's painting interests have been program-directed to the territory of a specifically cited structural abstraction. In the domestic environment, the more or less unique creatively accepted Richter principle of building the painting area of the author does not exhaust even for more than twenty years offset, on the contrary, initiates his other innovative visual and technical probes. He modifies the oil and its classical painting language into special formal and technological connections, where spontaneous utterance on the border of gestural painting plays a key role. The vibrating optical relations of wide-sized colours and their action projection on the canvas have a special position in this respect. It is implemented on the principle of multiple additive layering of spectral colour masses into the final, embossed structured painting area in harmony of several elements - intuition as well as logical reasoning and concentrated technical improvisation. He repeatedly lays on the colour mass itself of the thick paste, spreads it sharply over the painting surface by means of an authentic technique using original squeegees and various-format, especially relatively large spatulas. Recently, he integrates into painting also conventional painting culture in detail on the platform of its tonal values; most recently, he has recently verified the sgraffito painting technique that still heightening the relief character of a painting.
Božena Juríčková
---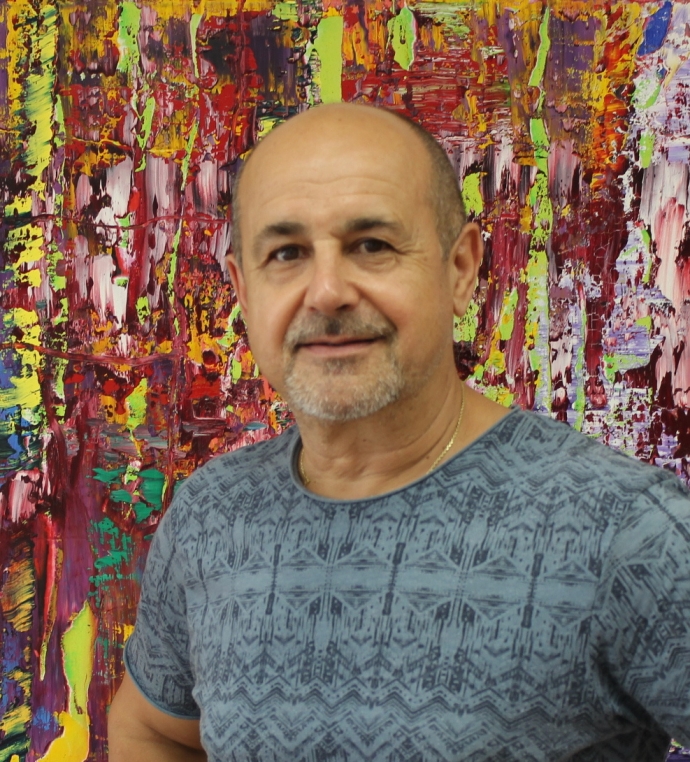 ---
1960 - born on June 5, in Senica, Slovakia
1975-1979 - studied at the Secondary Apprentice School of Engineering in Myjava
1981-1990 - worked in the Municipal Services in Senica as a picture framer
since 1991 - has carried out business in picture framing and sale of art supplies
2003-2006 - attended visual arts course for adults at the Elementary Art School Senica
since 2003 - has regularly participated in creative workshops of the National Cultural Centre Bratislava
2008 - initiated establishing the SenART interest group of visual artists in Senica
2010 - was awarded with a Memorial Medal of the Trnava Self-Governing Region's Chairman
2012 - member of the Association of Visual Artists of Western Slovakia at the Slovak Union of Visual Arts
2019 - entry in the list of professional artists. Art Support Fund
Video
---
---
Navštívte našu predajňu Rámovanie obrazov a potreby pre výtvarníkov.
---